Residential Lawn Renovations
Overseeding and Topdressing are excellent ways to fill in bare or damaged areas in a lawn, or can be applied to the whole lawn in order to increase the density to help withstand the attempted encroachment of weeds and resistance to disease and insects.  Our exclusive seed blend has been formulated from the highest quality Kentucky bluegrass seed varieties, and our power topdresser is used to accurately and evenly control the flow of the rootzone mixture.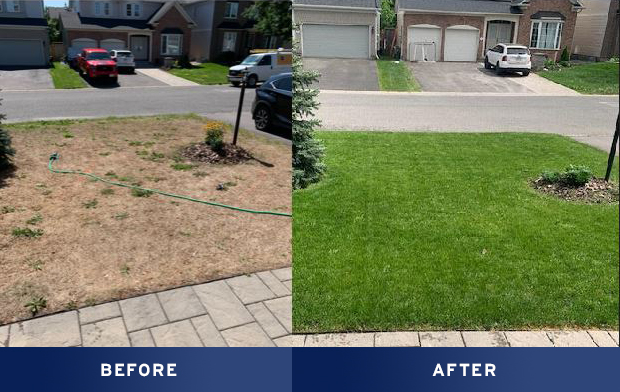 When overseeding and topdressing are not sufficient to restore a lawn to health and beauty, a complete full or partial lawn renovation may be required.  The process involves scraping off the vegetation and the top layer of soil, and removing material to a land-fill site.  We apply high-quality screened topsoil, grade site, and spread Postcard Perfect's premium starter fertilizer to the area.  High grade Kentucky bluegrass sod is laid and tightly knit together.  With adequate initial watering, you will have a lush, beautiful and healthy lawn.