Postcard Perfect Turfgrass Programs Booklet
---
​Turfgrass Programs
Postcard Perfect will develop a program that is within your budget and customized according to the needs of your lawn. It is our company policy that all customers take the fertilization program.
Programs Offered:
Enhanced Fertilization
Weed Control
Crabgrass Control
White Grub Control
Chinch Bug Control
Our Signature Program
Dethatching
Postcard Perfect Spring Trio
Granulated Organic Compost
---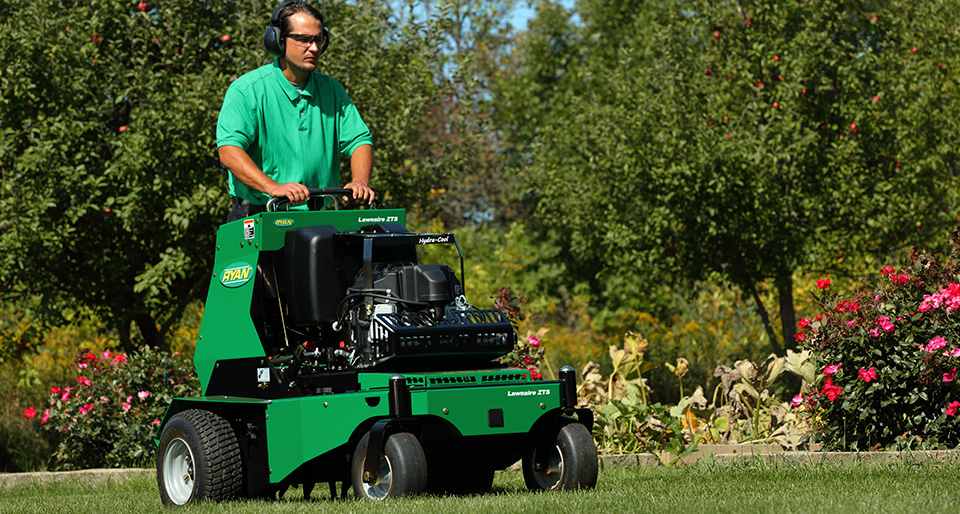 Lawn Renovations
Overseeding and Topdressing are excellent ways to fill in bare or damaged areas in a lawn, or can be applied to the whole lawn in order to increase the density to help withstand the attempted encroachment of weeds and resistance to disease and insects.  Our exclusive seed blend has been formulated from the highest quality Kentucky bluegrass seed varieties, and our power topdresser is used to accurately and evenly control the flow of the rootzone mixture.
When overseeding and topdressing are not sufficient to restore a lawn to health and beauty, a complete full or partial lawn renovation may be required.  The process involves scraping off the vegetation and the top layer of soil, and removing material to a land-fill site.  We apply high-quality screened topsoil, grade site, and spread Postcard Perfect's premium starter fertilizer to the area.  High grade Kentucky bluegrass sod is laid and tightly knit together.  With adequate initial watering, you will have a lush, beautiful and healthy lawn.
---
Lawn Cutting
Our premium lawn cutting service provides weekly lawn cutting, trimming, and blowing.
Frequent mowing encourages the grass to expand, helping to build a thick, heavier lawn that is more resistant to weeds and disease.  Proper mowing is important in maintaining a healthy lawn.  With our attention to detail, you will notice the difference in how your lawn looks.
For tips on mowing techniques, click here​
​There's always one house on the block with the perfect lawn, with our help you can make it yours.
Call our office or email us to arrange a free lawn inspection.  We offer a personalized, professional and caring service.  Postcard Perfect's lawns are the healthiest and most beautiful in the community – we guarantee you won't be disappointed! 
---
Garden Bed Services
Designed to enhance the curb appeal of your home by creating clean, decorative and highly attractive beds for your plants and flowers as well as for hedge and tree bases.  We will work with you to create a professional design and install the garden beds of your dreams and look after supplying and planting all the trees, shrubs, and perennials that you choose. 
Services include:
New design and installation
Weekly, bi-weekly, or monthly maintenance
Spring and Fall clean-up
Pruning
Mulching
River Rock